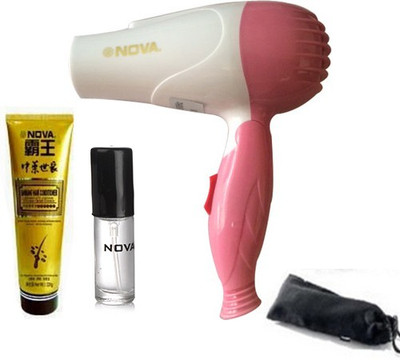 Nova Foldable N-658 Hair Dryer White, Pink
ग्राहक जिन्होंने इस आइटम पसंद आया , उनको यह भी पसंद आया
विशेषताएं: Nova Foldable N-658 Hair Dryer White, Pink
General
| | |
| --- | --- |
| Brand | Nova |
| Model Name | Foldable |
| Color | White, Pink |
| Model Number | N-658 |
| Attachment Types | Diffuser |
| Number of Speed Settings | 2 |
| Number of Heat Settings | 2 |
| Cold Air Feature | No |
Dimensions
| | |
| --- | --- |
| Cord Length | 1 m |
| Weight | 200 g |
Power Requirements
| | |
| --- | --- |
| Power Required (Volts) | 220 V |
| Power Consumption (Watts) | 1000 W |
Convenience Features
| | |
| --- | --- |
| Hanging Loop | No |
| Removable Filter | No |
अवलोकन: Nova Foldable N-658 Hair Dryer White, Pink
Foldable hair dryer to make your hair more shinning, smooth. Foldable handle. 1000W
ग्राहक की समीक्षा का Nova Foldable N-658 Hair Dryer White, Pink
5 सीतारा

(

5

)

4 सीतारा

(

9

)

3 सीतारा

(

12

)

2 सीतारा

(

3

)

1 सीतारा

(

3

)
समग्र रेटिंग
3.3 से 5 सितारे
समीक्षा का Nova Foldable N-658 Hair Dryer White, Pink
Gurupreeti Rajput
Got it in different colour
05 Mar, 2021 On DiscountKart
Product is good but when i have asked for buying it in white and pink combination why is it ordered in different color.
Beth Joy
Basic but good
05 Mar, 2021 On DiscountKart
It's a good hairdryer for basic use. The price was very good and the delivery from was prompt. It's small and not too powerful. But the company delivered a good product considering the low price.