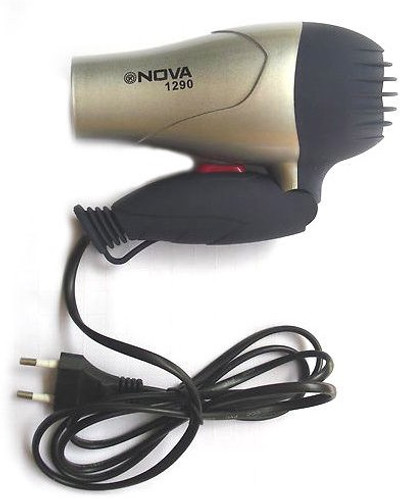 Nova Professional NV-1290 Hair Dryer Multicolor
ग्राहक जिन्होंने इस आइटम पसंद आया , उनको यह भी पसंद आया
विशेषताएं: Nova Professional NV-1290 Hair Dryer Multicolor
General
| | |
| --- | --- |
| Brand | Nova |
| Model Name | Professional |
| Color | Multicolor |
| Model Number | NV-1290 |
| Attachment Types | Concentrator |
| Number of Speed Settings | 2 |
| Number of Heat Settings | 2 |
| Cold Air Feature | No |
अवलोकन: Nova Professional NV-1290 Hair Dryer Multicolor
Blow-drying your hair after every shower can be a daunting task, especially if you have thick hair. So quickly and easily dry and style your hair by bringing home this hair dryer from Nova. Speed Settings With two flexible speed and heat settings, you can take control over the drying and styling needs of your hair. The cool shot professional finger diffuser and styling nozzle offer versatility, so you can try out different styles every day. With this hair dryer, caring for your hair will become an easy task. Foldable Handle This hair straightener comes with a foldable handle that makes it easy to hold and convenient to carry anywhere you go. It is lightweight and can easily fit into your handbag or travel bag. It also comes with a hook at the bottom of the handle for storage convenience.
ग्राहक की समीक्षा का Nova Professional NV-1290 Hair Dryer Multicolor
5 सीतारा

(

9

)

4 सीतारा

(

9

)

3 सीतारा

(

15

)

2 सीतारा

(

5

)

1 सीतारा

(

13

)
समग्र रेटिंग
2.9 से 5 सितारे
समीक्षा का Nova Professional NV-1290 Hair Dryer Multicolor
Soumya
1 का 1 people found this review helpful
Not good Product to buy
15 Oct, 2019 On DiscountKart
Very small in size wire is too small. Speed is also very low. Not recommended to buy this. Not satisfied with the product
Ishant Khurana
Got burned within 1 minute f the first use
15 Oct, 2019 On DiscountKart
As soon as I switched on this dryer, it was giving some burning smell. I was thinking in my mind that I will get this product replaced. By the time I was thinking this, the dryer stoped and I saw it got burned and melted in my hands. It was in fact a dangerous experience for me. P.S. I would strongly recommend not to buy this product, for safety purpose as well.
Manish Kohli
Not Happy with the Service
15 Oct, 2019 On DiscountKart
I am highly dissatisfied with the service for the product Nova Professional Speed NV-1290 Hair Dryer. I ordered for a pair of Nova Hair Dryer and also got the confirmation that product will be delivered by 4th Mar 2015 and in addition to that I got the invoice of pair however I got only 1 product. When I called the customer care I was told that we only have 1 product available hence the amount for the other one would be refunded to your account. My question is that why I was not told at the time of purchase or the next day that only 1 product is available? It is very disappointing that I have not been told that the product is not available and also on top of that invoice is being generated and sent to me when the product is not even available in stock. Please look into the matter and suggest the next course of action. I have been a regular customer with Flip kart and have bought several products however this is the worst experience that I have faced in last 1 year and now I will think twice before I go for any shopping through Flip Kart. Additionally please suggest that by when I can get the refund. Thank you, Manish Kohli
अधिक पढ़ें समीक्षा पर Nova Professional NV-1290 Hair Dryer Multicolor -
DiscountKart (51)