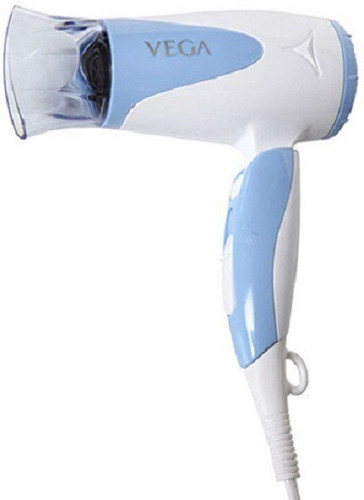 Vega Blooming VHDH-05 Hair Dryer Blue
ग्राहक जिन्होंने इस आइटम पसंद आया , उनको यह भी पसंद आया
विशेषताएं: Vega Blooming VHDH-05 Hair Dryer Blue
In the Box
| | |
| --- | --- |
| In the Box | Hair Dryer, Nozzle |
General
| | |
| --- | --- |
| Brand | Vega |
| Model Name | Blooming |
| Color | Blue |
| Model Number | VHDH-05 |
| Attachment Types | Concentrator, Diffuser |
| Number of Speed Settings | 2 |
| Number of Heat Settings | 1 |
| Cold Air Feature | Yes |
| Nozzle/Concentrator | Concentrator:Nozzle |
Power Requirements
| | |
| --- | --- |
| Power Required (Volts) | 220-240 V |
| Power Consumption (Watts) | 1000 W |
अवलोकन: Vega Blooming VHDH-05 Hair Dryer Blue
The Vega Blooming Air 1000 watt hair dryer lets you do wonderful hair styling on the go. It keeps your hair shining, healthy, and voluminous. This hair dryer has a unique feature of hot and cold air flow setting which allow versatile styling and complete drying. Cool air that helps setting your hair style perfectly. It comes with a concentrator accessory attachment for precise drying and styling. Removable end cap for easy cleaning. Sleek and a convenient foldable handle with hanging loop for easy storage.
ग्राहक की समीक्षा का Vega Blooming VHDH-05 Hair Dryer Blue
5 सीतारा

(

5

)

4 सीतारा

(

4

)

3 सीतारा

(

1

)

2 सीतारा

(

2

)

1 सीतारा

(

2

)
समग्र रेटिंग
3.6 से 5 सितारे
समीक्षा का Vega Blooming VHDH-05 Hair Dryer Blue
senifa silveira
0 का 1 people found this review helpful
Not happy with flipakrt
25 Feb, 2020 On DiscountKart
when i ordered this product ,i got the wrong product delivered,later on when i placed for a replaced did not send the color that i have ordered and promised that i would recieve the same color . when i got the product it was the same color,not the color that i have ordered. i dont know why they promise the customer that the mistake will not occur from their end and tend to make the same error again n again, Verrry bad service of .